...My Cold Hands Warm Hearts package arrived about a week ago! I was away on a business trip
(in freezing cold South Carolina, really?!)
so my hubby actually opened everything for me and took pics and then sent the pics to me. Having someone else open gifts that were for you and then sending them in picture is actually quite fun. My sweet swap partner was Louisa from
Happy Serendipity
who is currently living in Frankfurt, Germany. Something about getting things from overseas seemed way more fun! She sent me the "required" pair of gloves which are SUPER warm and cozy. Plus, she sent me one of her handmade vintage pouches. I am currently still trying to figure out what I want to put in the pouch. Makeup? Hair accessories? Small crafting items? I don't know yet. Here's a small glimpse of my items in picture form.
A huge thank you to Sandy Ala Mode and Much Love Illy for putting the swap together and getting so many bloggers together!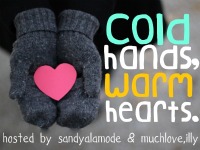 p.s. My apologies for being super absent lately. It appears to be a trend among some of my other blogger friends too right now. The holidays have really gotten ahold of my life right now and I've been away on business as well. I promise to return in full force after the holidays. Plus, my hubby had a most successful art/craft show at Crafty Wonderland that deserves a post!